SEE Result 2079 Nepal is Published Now! You surely might have questions related to Publish Date of SEE Result 2079 and How to Check SEE Result Exam Nepal? We the team of Notes Vandar are here to keep you updated with the latest and recent news related to the Secondary Education Examination (SEE). We will be the first to keep you updated from see.notesvandar.com about the SEE Result and Exam related questions. If you are wondering about How to see 10th Result Online or how to see result 2079 with marksheet online then you can check your result below.
---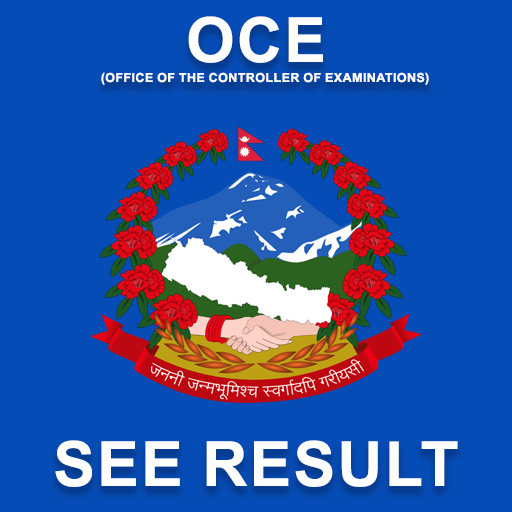 SEE Result 2079
The SEE Result 2023 will be published at the end of July. As the date will close, it is sure that the exam control office will release a press notice about the result date and its updates. According to the Education Act of Nepal, Students will find the grade instated of marks in their SEE mark sheet. They will discover Grade for every subject and even the final overall grade marks.
SEE Result Published Date 2079
The SEE Result 2079 will be published on the 3rd Week of July. According to the official if everything goes as planned then the result will be published at the decided date. But you can fill out the form below to get information first once the result is published.
How To Check SEE Results 2079?
Checking SEE Class 10 Result is really easy if you know the correct ways of checking them. So, to make your hustle easier here are ways to see your SEE Result 2079 with marksheet. The ways include online and offline both of which are better explained below.
Check SEE Class 10 Result From NTC Website
Nepal Telecom (NTC) is a governmental company under the viewership of Nepal's government. So the official site that has been publishing results of SEE for a very long time is NTC. They have a separate subdomain, especially to Check SEE Results Online. Here is how you can follow the steps and check your and your friends' see results easily.
Visit see.ntc.net.np on your mobile or computer.
Enter your Symbol No and Date of Birth.
Hit on Submit Button.
Now you will get your result with marksheet.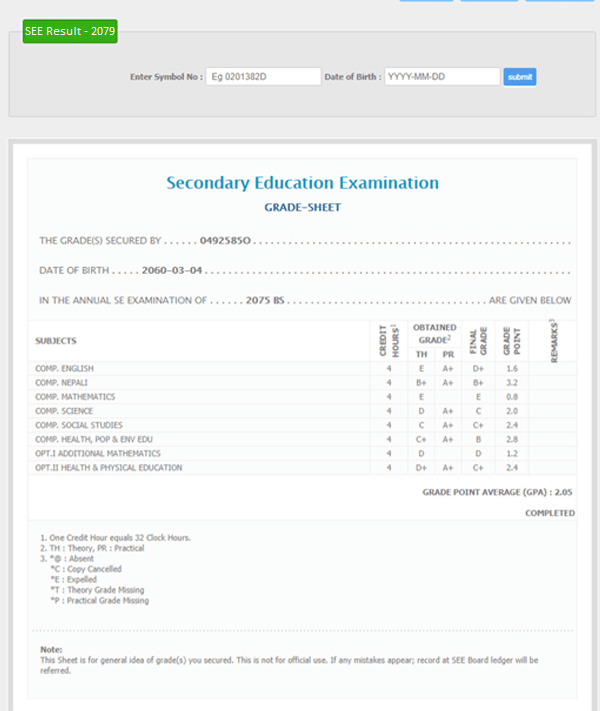 Check SEE Result From SMS
I am sure that you have access to an internet connection. But, sometimes due to various reasons, you might not be able to check your SEE Result. For that reason here is How to check your SEE Result from SMS. This method works both on NTC and Ncell SIM so don't work and let's start following the steps. Make sure you have your correct Symbol No and Date of Birth ready with you to check via SMS.
Open the default messaging on your mobile phone.
Click on Compose Message.
Now Type SEE [Space] Symbol No.
Then send it to 35001.
Check SEE Result From Your Relevant School
The best alternative of checking SEE results online and through SMS is by visiting your relevant school. You might be thinking it is useless visiting your school and how are they going to find out about your SEE Result. If you think so let me make you clear Schools have special access and can download the SEE Result Ledger of their School Student. Here are some steps for downloading the SEE Result Ledger for teachers.
Visit seeadmin.ntc.net.np on your browser.
Enter the School Code provided by NEB.
Enter any one of your student Symbol No.
Now enter the Date of Birth of that particular Student.
Now click on Submit.
Now you have the SEE Result Ledger for your School with the marks of every student.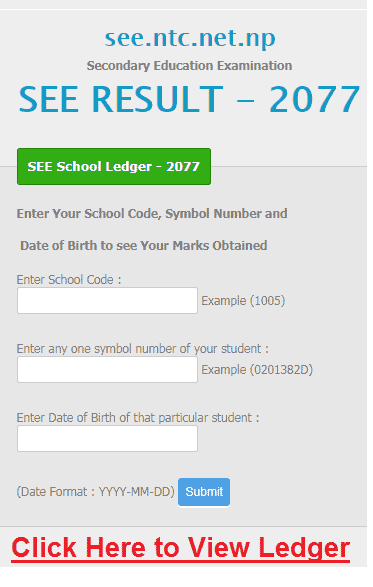 Letter Grading System in Nepal
If you are confused with all this letter grading marksheet of SEE Class 10 Result 2080 then here is a small table that will help you to self-understand what the Letter Grade means in Percentage. Eg: If your marksheet has an "A" on it means you have scored more than 80 marks and less than 90 marks.
| | | | |
| --- | --- | --- | --- |
| Achievement Percentage | GPA | Letter Grade | Description of Achievements |
| ≥ 90% | 4.0 | A+ | Outstanding |
| ≥ 80% but <90% | 3.6 | A | Excellent |
| ≥ 70% but <80% | 3.2 | B+ | Very Good |
| ≥ 60% but <70% | 2.8 | B | Good |
| ≥ 50% but <60% | 2.4 | C+ | Satisfactory |
| ≥ 40% but <50% | 2.0 | C | Acceptable |
| ≥ 35% but <40% | 1.6 | D | Basic |
| ≥ 35% | – | NG | Not Graded |
What After SEE Exam?
there are lots of things you can do after your SEE exam like you can learn some new skills, or you can do your entrance preparation for your +2. if you don't have any idea after SEE then here are some faculty you can take.
+2 Science
+2 Management
+2 Humanities
+2 Education
CTEVT
Diploma
Computer Course
FAQ
How Can I Check My SEE Result 2079?
To check your SEE Result 2079 you have to visit see.ntc.net.np and enter Your Symbol Number provided by NEB and your date of birth, you will get your result with the Grades and Marksheet.
How to Check SEE Result by SMS?
If you want to check your SEE result from SMS then you have to compose a new message and then Type SEE [Space] Symbol Number after that send SMS to 35001.
How to View SEE Marksheet?
To check your SEE Marksheet you will have to visit see.ntc.net.np and enter your date of birth as well as your SEE Symbol Number provided by the National Education Board (NEB), you will be able to view your SEE Result with the marksheet.
How to Download SEE Marksheet?
Once you visit see.ntc.net.np site and obtained your result you will be able to see a print button below the marksheet from where you can download your see marksheet as a PDF.
Can I view the SEE results of my friends?
Yes, Surely you can see your friend's SEE Result once you have their Symbol Number and Date of Birth without any difficulties.
Is SEE Result Published?
In general, the SEE result is published in the month of June – July.
SEE Result
Conclusion
So we have you have successfully got your SEE Result 2079 and if you get a good grade in your result that makes share to share our article with your friends and family so they can also check their SEE Result.
If you got the answer to How to Check SEE Result 2079 please do visit our website again for NEB Result.
Thank you so much for visiting Notes Vandar.🥰